Sunday, July 27, 2003
---
The Effect of Slashdot
If you are interested in technology, chances are that you have heard of
Slashdot.org
. I visit Slashdot just about every day. Slashdot is, essentially, a blog. Go visit the site and you will find that it links to different articles on the Web that are of interest to geeks. Each link is accompanied by a blurb to describe it. Slashdot adds a new link/blurb about once an hour.
Slashdot is a force of nature in the geek world. When it points to an article, Slashdot can move a tremendous amount of traffic. It is not uncommon to see a blurb on Slashdot say, "Before the server melted..." In other words, a link/blurb on Slashdot can create an intense burst of traffic that, for small servers, acts somewhat like a Denial of Service attack. The server "melts" because so many Slashdot readers are coming to look at the page Slashdot linked to.
How much traffic can Slashdot send to a page? On Thursday I got to find out. Slashdot posted a blurb linking to my
Robotic Nation article
.
First of all, let me say that it is an honor to appear on Slashdot. It's like going before a "jury of my peers". It has also been extremely informative -- Slashdot readers
left behind over 1,000 comments
that have been very interesting to read.
If you look at the following chart (produced by a program called Webaliser from the log files for MarshallBrain.com), you can see exactly how much traffic Slashdot can produce in one day: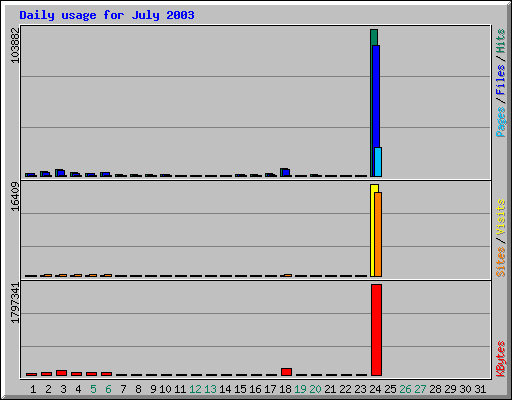 It was an amazing traffic spike. There are only two web pages on
MarshallBrain.com
at the moment -- the home page and the
Robotic Nation article
. Almost all of the traffic flowed into Robotic Nation. You can see that about 16,000 people came to see the article in a 14.5 hour period (the blurb appeared on Slashdot at 9:24AM on July 24). According to the Webaliser chart, those visitors consumed about 1.8 gigabytes of bandwidth. That's why small servers, or servers that don't have enough bandwidth to handle the load, melt when Slashdot links to them. I'd like to say thanks to
ez-web-hosting.com
(the hosting company for MarshallBrain.com) for handling the load without any problems.
The other side effect was email. I received over 100 emails from Slashdot visitors. Lots of people agreed with the article. Lots of people disagreed. Some of them disagreed intensely. However, all of the email I received was polite and rational. There was not a single flame, not a single four-letter word. This feedback has been helpful, and I appreciate it. I tried to respond to everyone last night.
One thing I can tell you after this experience is that there are a
lot
of people who are thinking about the U.S. economy and where it is headed. IT outsourcing, call center outsourcing, automated checkout systems... all of this is in-your-face and uncomfortable to lots of people, especially in an already-down economy. The fact that the
Robotic Nation article
generated over 1,000 comments on Slashdot tells you that this is a hot-button issue for lots of people. On August 1, 2003 the second essay in the Robotic Nation series will be available. It is a fascinating topic.
Comments:
I definitely enjoyed reading it, you may be a great author.I will make sure to bookmark your blog and will often come back someday.
hosting service
Post a Comment
<< Home
ARCHIVES
© Copyright 2003-2005 by Marshall Brain
RSS