Friday, October 21, 2005
Helpful - Large Monitors
Thursday, October 20, 2005
Helpful - backups
Wednesday, October 19, 2005
New idea
Sunday, October 16, 2005
New idea - Paper view technology
Friday, October 14, 2005
helpful - speeding up XP
Tuesday, October 11, 2005
helpful - cost of inkjet photos
Makes me smile
Saturday, October 08, 2005
Fun fact - time spent on media
Thursday, October 06, 2005
fun fact - teenage sex trends
Tuesday, October 04, 2005
A great place for kids
Saturday was David's eighth birthday, and for his birthday he asked to go to a place called
Great Wolf Lodge
. This is a hotel chain, and for us the nearest one is in Williamsburg, VA. The thing that makes this hotel appealing to kids is the fact that it has a indoor water park grafted onto it. David had seen an ad in the paper one Sunday, and he asked to go, and it sounded like fun, so we went.
If you have kids, this turns out to be a great place to go for a weekend. Both my wife and I had a mental image of what an "indoor water park" would be like. I assumed that it would be "small". I will say that this place greatly exceeded my expectations. There are 5 different slides that anyone can ride on, and two smaller slides for the under-5 crowd: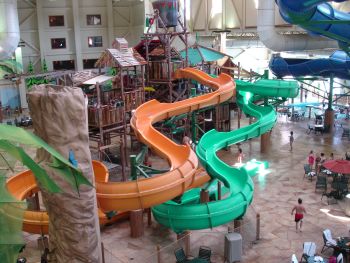 There's a giant climbing structure with nets, ramps, tunnels, water cannon turrets and so on, topped by the now-mandatory 1,000 gallon bucket: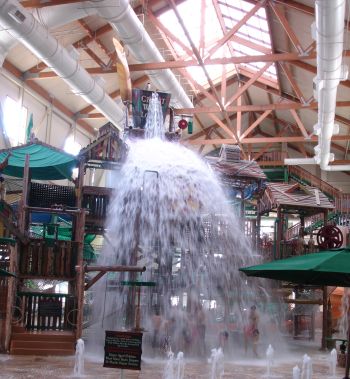 There is a large pool perfect for the under-5 crowd (deepest point is 1.5 feet), a big wave pool, two huge hot-tubs (one adults-only), a big 4 to 5 foot deep swimming pool with basketball, floating structures, etc. and a "lazy river" kind of thing. It is all housed in a 5 to 6 story tall building which is heated by one of the most massive HVAC systems I have ever seen. The hotel has about 300 rooms and is just absolutely immense.
Because it was a weekend, our room for 2 adults and 4 kids was $250 (it is cheaper on weekdays). That included six unlimited passes to the water park (good for both the day of arrival and the following day) (the water park was open from 8:30AM to 10PM), a free breakfast (which was fantastic), and various other amenities like a kids club (coloring, crafts), an animatronic show, etc. There is also a really nice game room/arcade, and an Aveda spa (a little pricey -- a "fusion stone massage" (whatever that is) is $160).
If you don't have kids you probably would never go to this hotel. If you do have kids it is fantastic.
I am still trying to figure out if this hotel represents:
Capitalism at its best


Our first baby steps toward completely enclosed cities


Or the initial signs that the United States is about to collapse like the roman empire did under the sheer weight of its extravagance.
For the time being let's assume #1. It really is a cool place if you have kids, and I would recommend it.
Makes me smile
Monday, October 03, 2005
Looking on the bright side...
Fun fact - soldiers
ARCHIVES
© Copyright 2003-2005 by Marshall Brain
RSS