Wednesday, December 31, 2003
Tuesday, December 30, 2003
---
Computer Repair #20
[This post is part of an ongoing
series of posts
in December cataloging how much time I spend repairing the computers here in the Brain household.]
I have been getting this dialog once a day or so during the month of December: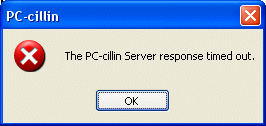 PC-cillin is a virus checker made by Trend Micro, and it is time to investigate the problem.
Let's step back for a moment and look at the big picture. I have purchased an operating system from Microsoft. Microsoft should provide its customers with an operating system that is immune to viruses. Viruses have been a known threat since the 1980s, so it is not like this is a new thing. The operating system should make viral attacks impossible.
Given that Microsoft does not provide a secure operating system, Microsoft should provide a free application that protects its operating system against attack. There are virus checkers like PC-cillin on the market. Traditionally Microsoft competes with existing applications. For example, Microsoft distributes:
Microsoft Word, created to compete with other word processors like Word Perfect (a product that is now largely defunct)
Microsoft Excel, created to compete with other spreadsheets like Lotus 1-2-3 (a product that is now defunct)
Microsoft Internet Explorer, created to compete with Netscape's browser (a product that is now largely defunct)
And so on...
Why Microsoft has not done the same with virus checkers and put Trend Micro, Symantec, etc. out of business is a mystery.
Microsoft provides neither a secure OS nor the software needed to protect it, so we all are vulnerable to viruses and have to pay to protect ourselves against them. We also have to update our virus checkers daily, run them constantly and deal with the problems they create when trying to install software, etc. The national cost of all of this software, the updates and the viral attacks themselves is astronomical.
So... I pull up the help file for PC-cillin to see what this error message means. The word "Server" is not found in the help file's index. Searching for "server timed out" and various other patterns yields nothing. The help file is not going to be any help in this case.
I make my way next to the Trend Micro Web site, find the Support section, search around and come to this entry:
Solution 13930

Title: The error message "Server response timed out" appears when using PC-cillin 2002 versions.

Problem: During the update process, clients will receive the error message Server Response Timed Out.

This means that, depending on the serial numbers, the license has already expired.

OEM Versions
PCEA-XXXX-XXXX-XXXX-XXXX - 3 months
PCEB-XXXX-XXXX-XXXX-XXXX - 6 months

Full Versions
PCEF-XXXX-XXXX-XXXX-XXXX - 1 year
PCEW-XXXX-XXXX-XXXX-XXXX - 1 year

Solution: Trend Micro recommends upgrading to PC-cillin Internet Security.

Visit the following sites for more information on the new product...
Since this is the case, why didn't the original error dialog say, "It is time to upgrade your copy of PC-cillin. Click here."?
I have already purchased the product for $50, but the "purchase" only lasted a year, so it is time to purchase again. The upgrade is $25. According to the site, here's what I have to do after finding my existing serial number and paying for the upgrade on the Trend Micro Web site:
Download the new Trend Micro PC-cillin Internet Security 2004 program file.
Uninstall your previously installed PC-cillin 2002 or PC-cillin 2003.
Double-click on the PC-cillin Internet Security 2004 program file downloaded to proceed with installing PC-cillin Internet Security 2004.
Enter the new serial number that was provided to you during installation. Please note that the serial number from earlier versions of PC-cillin will not work.
Click user registration button to make sure you have been registered.
Question #1 -- Is it now clear why a majority of "normal users" don't run virus checking software? This is nuts.
Question #2 -- Wouldn't it be nice if, instead of all of this, I could simply push one button and the software would take care of everything? For example, to pay for this I am going to have to enter all of my personal information. Why can't the Web site register me at the same time? Why can't it uninstall the existing version? Why can't it apply the serial number? This too is nuts.
I fill out the order form, which includes name, address, phone number, email, credit card number and a password. I am charged $25. I am given a button to push to download the file, and I choose to save the 31.5 megabyte file on my hard disk (for a normal user, how do you decide whether to "save" or "open" the download file?). Once the file is downloaded, there are no further instructions. Without instructions, it is unclear what a "normal user" would do at this point. I choose to double-click on the EXE file that just downloaded.
After about a minute of extracting files, I get this dialog:

Wouldn't it be nice, for normal users, if it suggested what to do now? It truly is non-obvious, because there is no big button you can press that says, "Stop running PC-cillin" -- it's one of those programs that is running all the time. Looking in the help file reveals instructions on how to uninstall PC-cillin, so I follow the instructions. I have already closed email, browser windows and all the other random applications I can find in preparation for the install. I get this dialog: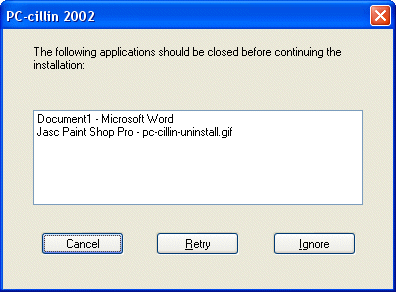 I've also got GigaPocket running in the background recording an evening TV show for Leigh, and I don't want to disrupt that. So I will now stop and wait 45 minutes for the TV show to complete...
Now I'm back. [Let me say the following to get it off my chest -- This Is Nuts. All I want to do is get my virus checker to work. This simple task has now become a multi-hour process. All because Microsoft refuses to build us a virus-proof OS. At the same time, Microsoft is sitting on something like $50 billion in corporate cash reserves. With $50 billion, Microsoft could hire 100,000 American programmers (Microsoft only has 50,000 total employees currently) and pay them an average of $100,000 per year for five years to write several new operating systems completely from scratch. But Microsoft chooses not to do that.]
I close the remaining applications and let PC-cillin uninstall itself. Then I reboot. For the next 20 minutes I am naked to the viral hordes...
Once the machine reboots, I try to install the software again. There is the obligatory EULA to agree to:
Trend Micro License Agreement

IMPORTANT: READ BEFORE BREAKING THE SEAL ON THE ACCOMPANYING CD JACKET. THE OFFER OF TREND MICRO INCORPORATED ("TREND") TO ACQUIRE THE TREND SOFTWARE ("SOFTWARE") IS SUBJECT TO THE TERMS AND CONDITIONS OF THIS LICENSE AGREEMENT ("AGREEMENT"). BY BREAKING THE SEAL ON THE CD JACKET IN THIS PACKAGE, YOU ACCEPT THE TERMS AND CONDITIONS OF THIS AGREEMENT. IF YOU ARE ACQUIRING THE SOFTWARE ON BEHALF OF YOUR COMPANY OR ORGANIZATION (COLLECTIVELY "COMPANY"), BY BREAKING THE SEAL YOU REPRESENT THAT YOU ARE DULY AUTHORIZED TO REPRESENT YOUR COMPANY, AND YOU ACCEPT THE TERMS AND CONDITIONS OF THIS AGREEMENT ON BEHALF OF YOUR COMPANY. IF YOU OR YOUR COMPANY DO NOT AGREE TO THE TERMS OF THIS AGREEMENT, DO NOT BREAK THE SEAL, BUT RETURN THE SOFTWARE WITHIN 30 DAYS OF RECEIPT TO THE LOCATION WHERE IT WAS OBTAINED FOR A FULL REFUND.

1. LICENSE GRANT. Trend grants to You a perpetual, non-transferable, non-exclusive right to install and use the Software on no more than the maximum number of Computers for which license fees have been paid, as specified on the invoice You receive from Trend or its authorized distributor, Your receipt or purchase order, as applicable. License fees must be paid for each personal computer, workstation or other digital electronic device ("Computer") on which the Software is installed. This license is effective until terminated. You may terminate it at any point by destroying the Software together with all copies of the Software. Trend has the option to terminate this Agreement if you fail to comply with any term or condition of this Agreement. Upon such termination, You agree to destroy the Software together with all copies of the Software.

2. MAINTENANCE. This Agreement entitles You to receive Product Updates, Pattern File Updates, telephone or email technical support (collectively "Maintenance") for one (1) year from the date you acquired the Software. Thereafter, You have no right to download, install or use Product Updates or Pattern File Updates from Trend's web site or to receive technical support, unless You acquire annual Maintenance at Trend's then current fees. Trend reserves the right to change the terms and conditions applicable to Maintenance from time to time. "Product Updates" are new versions of the Software (excluding new or other products as reasonably determined by Trend) released by Trend during the Maintenance term. "Pattern File Updates" are virus protection data bases released by Trend during the Maintenance term. Pattern File Updates must be routinely downloaded from Trend Micro's web site to ensure the most effective operation of the Software.

3. ALL RIGHTS RESERVED. The Software is protected by copyright, trade secret and United States patent law and international treaty provisions. You shall not acquire any rights to the Software except as expressly set forth in this Agreement.. You agree that you will not attempt to reverse compile, modify, translate, disassemble, rent or lease the Software, in whole or part, or authorize others to do any of the foregoing.

4. LIMITED WARRANTY. Trend warrants that the Software will perform substantially in accordance with the accompanying documentation, including updates thereto, ReadMe files and release notes available online for 30 days from the date You acquire the Software.

5. CUSTOMER REMEDIES. If the Software does not conform to the limited warranty in Section 4 above ("Limited Warranty"), Trend's entire liability and Your sole remedy shall be, at Trend's option, either to (a) correct the error or (b) help you work around or avoid the error. The Limited Warranty is void if failure of the Software has resulted from accident, abuse, or misapplication. Any replacement Software will be warranted for the remainder of the original Limited Warranty period.

6. NO OTHER WARRANTIES. OR REMEDIES. TREND DOES NOT WARRANT THAT THE SOFTWARE IS ERROR FREE. EXCEPT FOR THE EXPRESS LIMITED WARRANTY IN SECTION 4 AND SUBJECT TO SECTION 9 ("CONSUMER PROTECTION"), THE EXPRESS TERMS OF THIS AGREEMENT ARE IN LIEU OF ALL WARRANTIES (EXPRESS OR IMPLIED), CONDITIONS, UNDERTAKINGS, TERMS AND OBLIGATIONS IMPLIED BY STATUTE, COMMON LAW, TRADE USAGE, COURSE OF DEALING OR OTHERWISE. INCLUDING BUT NOT LIMITED TO IMPLIED WARRANTIES OF MERCHANTABILITY, FITNESS FOR A PARTICULAR PURPOSE AND NONINFRINGEMENT OF THIRD PARTY RIGHTS, ALL OF WHICH ARE HEREBY EXCLUDED TO THE FULLEST EXTENT PERMITTED BY LAW. ANY IMPLIED WARRANTIES RELATING TO THE SOFTWARE WHICH CANNOT BE DISCLAIMED SHALL BE LIMITED TO 30 DAYS FROM THE DATE YOU RECEIVE THE SOFTWARE.

7. SEVERABILITY. In the event of invalidity of any provision of this license, the parties agree that such invalidity shall not affect the validity of the remaining portions of this license.

8. NO LIABILITY FOR CONSEQUENTIAL DAMAGES. IN NO EVENT SHALL TREND OR ITS SUPPLIERS BE LIABLE TO YOU FOR ANY CONSEQUENTIAL, SPECIAL, INCIDENTAL OR INDIRECT DAMAGES OF ANY KIND ARISING OUT OF THE DELIVERY, PERFORMANCE OR USE OF THE SOFTWARE, EVEN IF TREND HAS BEEN ADVISED OF THE POSSIBILITY OF SUCH DAMAGES AND EVEN IF THE LIMITED REMEDIES PROVIDED HEREIN FAIL OF THEIR ESSENTIAL PURPOSES. IN NO EVENT WILL TREND'S AGGREGATE LIABILITY FOR ANY CLAIM, WHETHER IN CONTRACT, TORT, OR ANY OTHER THEORY OF LIABILITY, EXCEED THE LICENSE FEE PAID BY YOU. THIS LIMITATION SHALL NOT APPLY IN CASES OF FRAUD, DEATH OR PERSONAL INJURY CAUSED BY TREND'S NEGLIGENCE.

9. CONSUMER PROTECTION. SOME JURISDICTIONS DO NOT ALLOW CERTAIN LIMITATIONS, SO THE ABOVE LIMITATIONS AND DISCLAIMERS OF WARRANTIES AND LIABILITIES MAY NOT FULLY APPLY TO YOU. FURTHERMORE, YOU MAY HAVE ADDITIONAL RIGHTS AND REMEDIES AGAINST THE ENTITY FROM WHOM YOU HAVE ACQUIRED THE SOFTWARE. SUCH POTENTIAL RIGHTS OR REMEDIES, IF ANY, SHALL NOT BE AFFECTED BY THIS AGREEMENT.

10. BACK-UP. For as long as You use the Software, You will regularly back-up Your computer system(s) on a separate media. You acknowledge that any failure to do so may significantly decrease Your ability to mitigate any harm or damage arising from any problem or error in the Software.

11. GOVERNING LAW. This Agreement and any disputes arising out of or related to this Agreement or the Software will be governed by the laws of the State of California as applied to agreements between California residents entered into and to be performed entirely within California. The United Nations Convention on Contracts for the International Sale of Goods is specifically disclaimed.

12. ENTIRE AGREEMENT. This is the entire agreement between you and Trend and it supersedes any prior agreement or understanding, whether written or oral, relating to the subject matter of this Agreement.

Trend Micro Incorporated, 10101 N. De Anza Blvd., Cupertino, CA 95014. Should you have any questions concerning this license agreement, or if you desire to contact Trend for any reason, please call at (408) 257-1500, fax (408) 257-2003, or write: Trend Micro Incorporated, 10101 N. De Anza Blvd., Cupertino, CA 95014.
One of the next things to happen is this dialog:

If I am a "normal user", what am I to make of this? I say, "Yes". The dialog appears again. I say "Yes" and it appears again. After the 10th time I say, "Yes to all". About 10 minutes later the software is installed and apparently running. About one minute later this dialog pops up: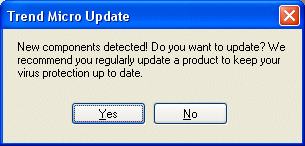 I say "Yes". Then I get this dialog: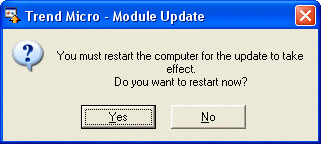 I say "Yes" to reboot again... Upon returning I get this dialog:
So I go to the registration page: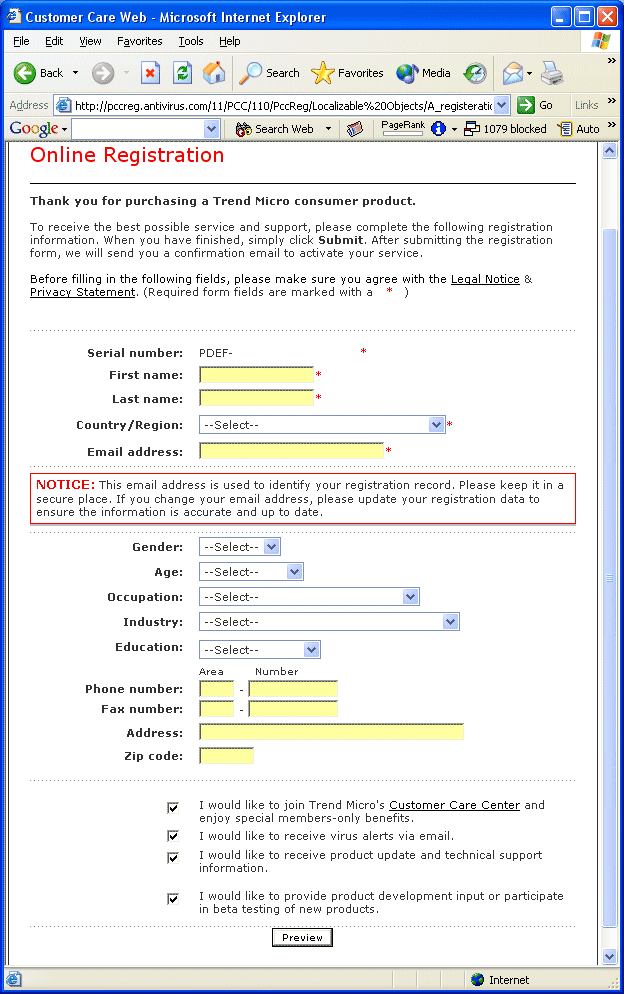 I fill in the information. I preview my information. I've got to read the legal notice and privacy statement before pressing the submit button. The legal notice looks like this:
Legal Notice

Welcome to the Legal Section of the Trend Micro Web Site. Here you can find links to our company policies, use of the content and software found on our site, as well as information on our trademarks. Please keep the following in mind when using the Trend Micro Web Site:

No Responsibility for Errors or Other Inaccuracies
Trend Micro Incorporated ("Trend Micro") is not responsible for typographic errors or other inaccuracies in the content provided on the Trend Micro Web Site. Trend Micro intends the information contained in the Trend Micro Web Site to be accurate and reliable. However, errors may occasionally occur. Therefore, all information and materials are provided "AS IS" without any warranty of any kind. TREND MICRO DISCLAIMS ANY WARRANTIES, EXPRESS OR IMPLIED, REGARDING ANY MATTER WHATSOEVER RELATING TO OR REFERENCED BY THE TREND MICRO WEB SITE, INCLUDING BUT NOT LIMITED TO THE IMPLIED WARRANTIES OF MERCHANTABILITY, FITNESS FOR A PARTICULAR PURPOSE AND NONINFRINGEMENT. Trend Micro reserves the right to modify the product and service information contained in the Trend Micro Web Site without notifying current or prospective customers. IN NO EVENT WILL TREND MICRO BE LIABLE FOR ANY INDIRECT, SPECIAL, INCIDENTAL, OR CONSEQUENTIAL DAMAGES ARISING OUT OF THE USE OF, OR PAYMENTS BASED ON, THE INFORMATION CONTAINED IN THE TREND MICRO WEB SITE.

Links to Other Web Sites
Trend Micro makes no representations whatsoever about any other web sites which you may access from the Trend Micro Web Site. When you access a non-Trend Micro web site, please understand that it its independent from Trend Micro and that Trend Micro has no control over the content on that web site. A link to a non-Trend Micro web site does not mean that Trend Micro endorses or accepts any responsibility for the content or use of such web site.

Treatment of Feedback & Responses Provided to Trend Micro
Any comments or materials sent to Trend Micro, including feedback data, such as questions, comments, suggestions and any other response shall be deemed to be non-confidential. Trend Micro shall have no obligation of any kind with respect to such response, and Trend Micro shall be free to use, reproduce, distribute and publicly display such comments and materials without limitation. Trend Micro shall also be free to use any ideas, concepts, know-how or techniques contained in such response for any purpose whatsoever, including but not limited to developing, manufacturing and marketing products incorporating such ideas, concepts or techniques.

Trend Micro Trademarks Notice
Trend Micro Incorporated, InterScan, InterScan VirusWall, ScanMail, ServerProtect, VirusWall, and WebProtect are trademarks of Trend Micro, registered in the U.S. and are trademarks in other countries, and AppletTrap, ChipAwayVirus, Edoctor, Ehospital, Emanager, MacroTrap, OfficeScan, PC-Cillin, Trend Micro, Trend VCS, Web Trap and NeatSuite are trademarks of Trend Micro. All other trademarks are the property of their respective owners.

Software Available on Trend Micro Web Site
Any software that is made available to download or use from the Trend Micro Web Site ("Software") is the copyrighted work of Trend Micro, Incorporated and/or its licensors. Use of the Software is subject to the terms and conditions of the license agreement which accompanies or is included with the Software or other applicable license agreement between you (and the entity you represent) and Trend Micro Incorporated ("License Agreement"). You must read and accept such License Agreement before you (and the entity you represent) use the Software. Any use, reproduction or distribution of the Software that is not in accordance with the License Agreement is expressly prohibited.
THE SOFTWARE IS WARRANTED, IF AT ALL, ONLY ACCORDING TO THE TERMS OF THE LICENSE AGREEMENT. EXCEPT AS WARRANTED IN THE LICENSE AGREEMENT, TREND MICRO INCORPORATED DISCLAIMS ALL WARRANTIES AND CONDITIONS WITH REGARD TO THE SOFTWARE, INCLUDING ALL IMPLIED WARRANTIES AND CONDITIONS OF MERCHANTABILITY, FITNESS FOR A PARTICULAR PURPOSE, TITLE AND NON-INFRINGEMENT.
If the Software is used by the United States Government, the Software is classified as "restricted computer software" as defined in clause 52.227-19 of the FAR. The United States Government's rights to the Software are as provided in clause 52.227-19 of the FAR.

Use of Content on the Trend Micro Web Site
Limited Right to Use, Print and Distribute Content: Except as expressly stated otherwise, you are authorized to view, copy, print and distribute the content of the Trend Micro Web Site subject to the following conditions: (i) it is used for informational, non-commercial purposes only; (ii) any copy or portion must include the Trend Micro copyright notice "© 2002 Trend Micro Incorporated. All Rights Reserved"; (iii) no modifications are made; and (iv) Trend Micro reserves the right to revoke such authorization at any time, and any such use shall be discontinued upon written notice from Trend Micro.

Pricing and Availability Information
Pricing and availability as set forth in the Trend Micro Web Site are subject to change without notice, and may not be available in all countries. The Trend Micro Web Site may contain references to Trend Micro products, services and programs that have not been announced in your country. These references do not imply that Trend Micro intends to announce or make available such products, services or programs in your country. Further, the Trend Micro Web Site may contain references to future planned Trend Micro products. Such products are only planned and may not actually be produced. Any planned ship dates mentioned in reference to such future products are estimated ship dates only, and are not guaranteed.

Third Party Company and Products (Real and Fictitious)
Mention of third party companies and products on the Trend Micro Web Site is for informational purposes only and constitutes neither an endorsement nor a recommendation. Except as may be expressly stated otherwise, all third party products must be ordered directly from the vendor, and all licenses and warranties, if any take place between you and the vendor. All persons and companies listed in any examples on the Trend Micro Web Site are purely fictitious, and resemblance to existing persons and companies is purely coincidental.

Use of the Trend Micro Web Site by Children
While Trend Micro's product ad campaigns and marketing materials may be viewed by children, we do not generally target children as customers or solicit data from them. Trend Micro encourages parents and guardians to spend time online with their children and to participate in the interactive activities offered on the sites their children visit. No information should be submitted to, or posted at, Trend Micro's web site by visitors under 18 years of age without the consent of their parent or guardian.
The privacy notice looks like this:
Privacy Statement

This statement discloses the privacy practices for the entire website.

Trend Micro, Inc. has adopted a set of information management guidelines which serve as the basis for our customer relationships. Any changes to these policies will be posted on this page.

What information does Trend Micro gather/track about you?
Trend Micro requires that consumers supply personal information, including name, company, telephone number and email address, prior to receiving evaluations software and other specific corporate and informational materials. Trend Micro also logs IP addresses, Web browser information, referral information, and pages visited for the purposes of improving both the navigation and marketing of the website.

What does Trend Micro do with the information it gathers?
Trend Micro, or it representatives will often follow up, either by email, phone, or mail with people who have filled out forms and downloaded evaluations software or other information from our website.

Using the email addresses provided at registration, Trend Micro periodically sends promotional email about new products, product enhancements and special offers. Upon request, Trend Micro will remove any subscriber (and his or her personal information) from our database, or allow any subscriber to "opt out" of further contact or change/correct personal information that the subscriber states is erroneous.

With whom does Trend Micro share the information it gathers/tracks?
Trend Micro does not release personal information about any individual subscriber to outside third parties. Trend Micro does share personal information with our resellers, distributors and global offices for the purpose of providing our customers with high quality, localized service. This process often includes sending the personal information gathered through forms on the website across international borders.

Trend Micro is not responsible for the content or the privacy policies of Web sites to which it may link.
I press the submit button, and after several minutes of waiting get this: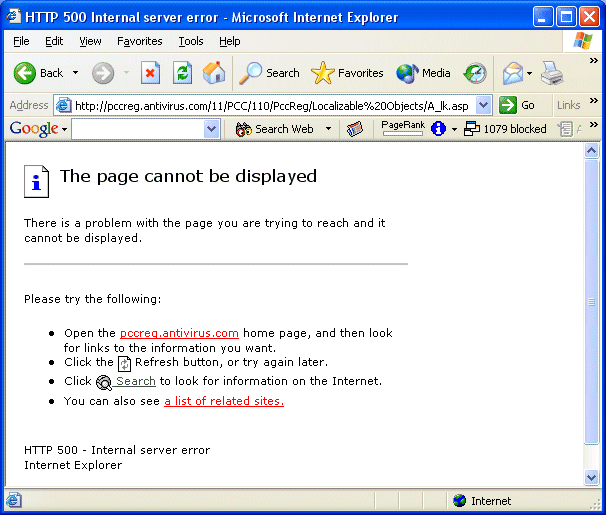 Now what? I decide to abandon it, and I imagine that the software will bitch at me if I need to register again.
At this point the software is installed. I start poking around. The user interface is completely different in this new version. All my settings from the previous version have been lost, so I reset them as best I can remember.
Total time for this repair (ignoring the time lost waiting for Gigapocket to finish recording the TV show): about 1 hour.
Let me reiterate five comments:
First and foremost, Microsoft should be delivering software that is immune to viruses. Given that that is not the case...
Microsoft should be giving us a virus checker as a free component of the OS. That is not the case either, so...
This is nuts. It just should not be this hard or involved to install a virus checking application (especially an upgrade). I should be able to click one button to install.
For "normal users", this process borders on impossible. Look at how long this post is.
Thus, it is no wonder that so many machines do not have virus protection.
If virus protection is vital to Homeland Security and Business integrity, someone needs to find a better solution to the problem.
Monday, December 29, 2003
Sunday, December 28, 2003
Saturday, December 27, 2003
Friday, December 26, 2003
Thursday, December 25, 2003
Tuesday, December 23, 2003
Monday, December 22, 2003
Saturday, December 20, 2003
Thursday, December 18, 2003
Wednesday, December 17, 2003
Monday, December 15, 2003
Sunday, December 14, 2003
Saturday, December 13, 2003
Friday, December 12, 2003
Thursday, December 11, 2003
ARCHIVES
© Copyright 2003-2005 by Marshall Brain
RSS