Sunday, October 26, 2003
---
You've Been Ghosted!!!
Last night around 8PM, the doorbell rang. Anytime the doorbell rings it's a big event for the kids, so they all go running toward the door yelling and laughing. Leigh was upstairs, and I was elbow-deep in a pumpkin pulling the seeds out. I wipe off my hands, wade through the kids and open the door.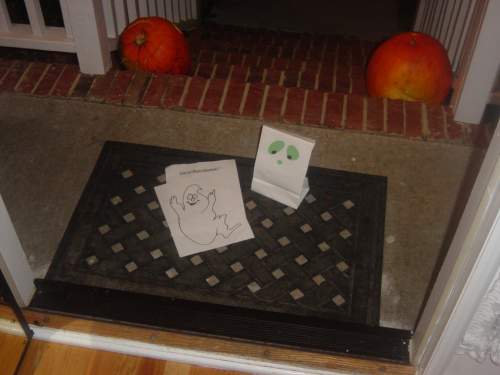 There was no one there. But on the porch were two sheets of paper and a lunch bag. The lunch bag is full of cookies and candy, which the kids immediately begin devouring. One of the sheets of paper is a drawing of a happy ghost. The second sheet of paper says this:
You've Been Ghosted!!!

The Phantom Ghost has come to town,
To leave goodies you have found.
If you do not wish a curse to fall
You must continue this "Phantom" call.

First, post this Phantom where it can be seen
And leave it there till Halloween.
This will scare other visiting Phantoms away.
Be sure to participate, don't delay.

Second, make two treats,
Two Phantons, and
Two notes like this.

Deliver it to two neighbors that might have been missed.
Don't let them see you, be sneaky, no doubt...
(And make sure they put their "Phantom Ghost" out!)***

Next, you will have only one day to act, so be quick!
Leave it at the doors where the Phantom has not hit!
Deliver it at dark when there is no light...
Ring the doorbell and run, and stay out of sight!!!

And last but not least, enjoy the season.
Don't worry, be happy for all the right reasons.
Be cool, have fun and remember, don't be seen!
Share the Spirit of Halloween!!

**Tape the 'Phantom' picture on your front door or window to be easily seen.

David (age 6) is fascinated by this. We went all over the neighborhood last night trying to figure out who ghosted us,
but there are no other doors in the neighborhood displaying a ghost.
So it remains a mystery. David's plan tonight is to ghost 10 of his friends.
A very interesting form of viral chain letter...
Comments:
If you, like so many others, are in the market for
Generic Viagra
, buying
order viagra
is your best bet for finding fantastic deals on high quality generic medications. We understand that so many people are struggling to make ends meet in these difficult times, and health insurance does not always include prescription coverage. More Info at:
http://www.xlpharmacy.com
Post a Comment
<< Home
ARCHIVES
© Copyright 2003-2005 by Marshall Brain
RSS