Wednesday, December 17, 2003
---
Computer Repair #9
[This post is part of an ongoing
series of posts
in December cataloging how much time I spend repairing the computers here in the Brain household.]
This is not really a repair -- it is an error. But it happens about once a day and it takes time, so I'll document it.
The scenario -- you are using some application, and it crashes. Tonight I was using Internet Explorer. I went to Google, typed in a search string, looked at some articles, and on one of the articles IE crashed for no apparent reason. A dialog like this appears: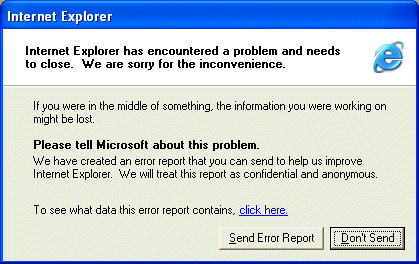 I send an error report. Often, once IE crashes like this, it won't be long before things get so flakey that I have to reboot. So the time consumed by this error includes:
Re-launching IE (a few seconds)
Getting back to Google (a few seconds)
Remembering the search string you had been using (sometimes easy, sometimes impossible)
Going in a few pages on the Google search results (30 to 60 seconds)
Finding and re-loading the page you had been reading (15 to 30 seconds)
Finding the place in the article where you had been reading before IE crashed (15 to 30 seconds)
Possibly rebooting 10 minutes later (5 to 10 minutes, depending on how many windows are open)
Let's say the average total time spent recovering from an application crash like this is 3 minutes. Let's say it happens 100 times a year. That's 300 minutes, or five hours of lost time every year. It adds up...
ARCHIVES
© Copyright 2003-2005 by Marshall Brain
RSS