Sunday, February 15, 2004
---
The Price of Things
The
price comparison
last week between an ink jet printer cartridge and a microwave oven caught a number of people by surprise. Here's the deal: You can go to BestBuy and purchase an ink jet cartridge for $38.99:
Or you can go to Target and get a Microwave Oven for $28.44:
So think about this: The microwave oven contains a microprocessor, the software for the microprocessor, a keypad/display for the microprocessor and a separate power supply for it. The microwave oven also contains a 700 watt Klystron to generate the microwaves, the waveguides for Klystron and the high-voltage power supply it needs. Then there is the door, the hinges, the latch, the safety interlocks on the latch, the light, all the internal fusing, the metal case, the interior, etc. There's also the process of getting UL listed and so on. A microwave oven weighs 30 pounds and once cost thousands of dollars. Mass production has dropped the price on microwaves significantly in the last decade or two.
By comparison, an ink jet cartridge is a piece of plastic, a couple of dozen jets, a little wiring and some ink. The total cost to manufacture is probably less than a dollar. Yet they sell for $38.99.
When you start to look around, you see that sort of discrepancy in lots of places. To see the discrepancies more clearly, it is helpful to calibrate your "price gauge" with the prices of some common objects from everyday life. Here are a few:
First there is Barbie: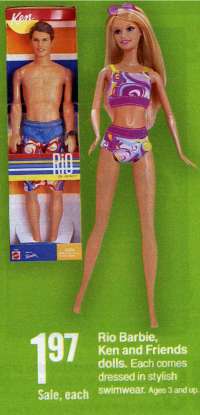 Source: Target

She's down to $2. Closely related to Barbie are Hot Wheel cars. 35 years ago, Hot Wheels cost about a buck. Today if you shop around you can find them for 50 cents. Prices for both toys have fallen considerably over the last 35 years.
Then there's captain's chairs: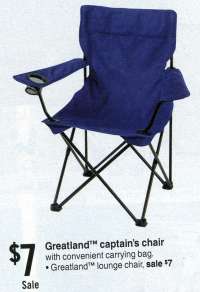 Source: Target

Roughly 10 pounds of aluminum and nylon in an ingenious folding package. And don't forget the convenient carrying bag, along with the cupholder. These folding chairs used to run as high as $50 each, and are now down to $7.
There's the aforementioned microwave:

Source: Target

DVD players and VCRs also fall into this category -- they used to cost $1,000 or more 20 years ago, but now they can be had for less than $50.
Mountain bikes are down in the $65 range. In the $100 to $200 range there are electric scooters: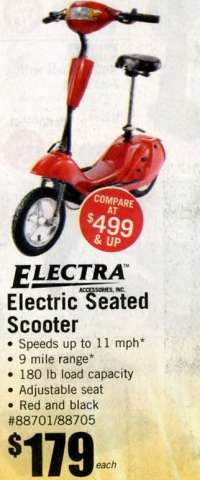 Source: Pep Boys

This one has a 300 watt motor, a good-size battery pack plus charger, wheels, seat, handlebars, headlight and all the trimmings. Not bad for $180.
On the home front you can now buy a washer and dryer -- the pair -- for less than $400: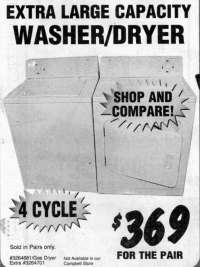 Source: Fry's

And a 25 cubic foot refrigerator with ice in the door and glass shelves is under $550: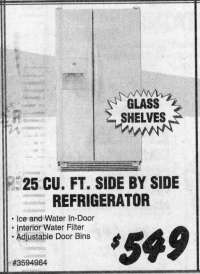 Source: Fry's

It's a miracle when you think about it, and this miracle is the ultimate goal of capitalism when it is working properly -- competition and innovation driving prices down and down and down.
Then you start to look around and see the counter-examples, like ink jet cartridges, and you are left scratching your head. If a microwave oven costs $29, then an ink cartridge should cost $1.25 by now.
Or compare this game to a microwave: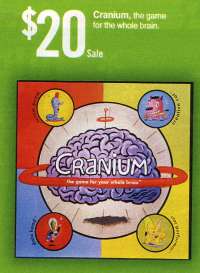 Source: Target

A Cranium game is made up of some cardboard, some paper cards. There is absolutely nothing to it when you compare it to a microwave. For that matter, there is nothing to it when you compare it to a Hot Wheel car. It should cost 50 cents.
What about this: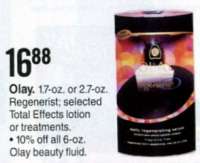 Source: Target

1.7 ounces of Olay Regenerist. Olay describes it like this:
Olay Regenerist helps regenerate your skin's appearance without such drastic measures as chemical peels, cosmetic surgery or laser. Clinical tests have proven that amino-peptides can help regenerate damaged skin. Olay has now proven that Regenerist, using this technology, also regenerates your skin by renewing the outer layer to give you younger-looking skin. The result? Beautifully regenerated skin, one cell at a time.
I will admit that I went to look at the ingredient label to see if gold or some other exotic metal was listed there. Here's the manifest:
Cyclopentasiloxane, Water, Glycerin, Polymethylsilsesquioxane, Niacinamide, Dimethicone, Dimethicone Crosspolymer, Panthenol, Butylene Glycol, Propylene Glycol, Palmitoyl Pentapeptide-3, Tocopheryl Acetate, Camellia Sinensis Leaf Extract, Allantoin, Cetyl Ricinoleate, BIS-PEG/PPG-14/14Dimethicone, PEG-10 Dimethicone, PEG-100 Stearate, PEG-10 Dimethicone/Vinyl Dimethicone Crosspolymer, Disodium EDTA, Sodium Metabisulfate, Ethylparaben, Propylparaben, Methylparaben, Benzyl Alcohol, Fragrance
When you start to decode this list, you realize there is nothing exotic. For example, the main ingredient is Cyclopentasiloxane. Look it up and you find that it is available from a dozen chemical companies. GE Silicones describes it
this way
:
Cyclopentasiloxane (SF1202) is a volatile, low-viscosity fluid. It is non-polar and insoluble in water, and it is completely miscible in lower alcohols and other typical solvents used in cosmetics. In personal care applications, it is often used as a carrier, which evaporates without residue, while providing lubricity and detackification.
You can buy it by the 55 gallon drum. Then there's water and glycerin -- both readily available. What about Polymethylsilsesquioxane? Sounds exotic. But it is also available from GE Silicones and is described in
this way
:
Polymethylsilsesquioxane (Tospearl® 120A, 130A, 145A, and 2000) is a spherical, fine particle silicone resin exhibiting a very narrow particle size distribution. Its lubricity, silky smooth feel and water repellency make it useful for color cosmetics and other skin care applications.
We've gone through the first four ingredients and there's no magic yet - these are all carriers. It really is interesting to read through the descriptions of all these chemicals to realize that... for the most part the whole thing is a bunch of "lubricity".
The miracle "amino-peptides" would probably be in the ingredient Palmitoyl Pentapeptide-3. You find it in all sorts of "AGE REVERSAL SERUMS!". The clinical research behind it is described in articles like
this one
, which mentions that you only need it at a strength of 5 parts per million to get results.
At 5 parts per million, a 1.7 ounce jar of Olay Regenerist contains only 0.00024 grams of Palmitoyl Pentapeptide-3. How much can that cost? Gold right now is in the $400 per ounce range, meaning that 0.00024 grams of gold costs less than a penny. Palmitoyl Pentapeptide-3 can not cost much more than that.
That's a very long discussion of Olay Regenerist, but the point is simple. If a microwave oven costs $29, then 1.7 ounces of this "beauty fluid" should cost about 15 cents by now.
What about this nice DK T-shirt: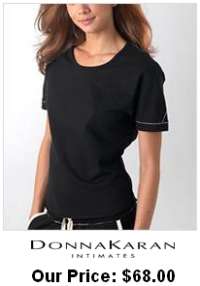 Source: barenecessities.com

The description on barenecessities.com says this shirt "is constructed of soft, mid weight cotton. This tee has short sleeves and a crew neck as well as a raw bottom edge." In other words, it's a plain old cotton T-shirt. It contains maybe 25 cents worth of cotton sewn together by a garment worker paid by the piece. Total value -- 50 cents or so. Yours for $68. That's a pretty substantial profit margin. For that same $68, you can get 2 microwaves and a captain's chair.
A couple of other good examples include: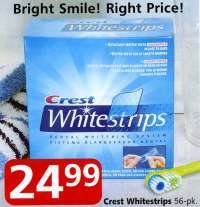 Source: Eckerd

and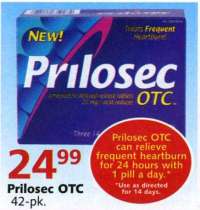 Source: Eckerd

The most extreme example of the trend, however, came with the reports of Martha Stewart's court wardrobe. She arrived carrying a Hermés Birkin handbag, which according to the
Miami Herald
"carries a price tag of $6,000 to $85,000."

Source: Miami Herald

$10,000 for her purse... Somewhere along the line, these insane prices need to succumb to the power of capitalism, just as the refrigerators and the microwave ovens have.
Comments:
Catch the
wow gold
star that holds your
gold in wow
destiny,
cheap wow gold
the one that forever
maplestory money
twinkles within your heart. Take advantage of precious opportunities while they still sparkle before you. Always believe that your
buy maplestory mesos
ultimate goal is attainable
cheap mesos
as long as you commit yourself to it.
maple money
Though barriers may sometimes stand in the way of your dreams, remember that your destiny is hiding behind them.
wow gold kaufen
Accept the fact that not everyone is going to approve of the choices
Maple Story Accounts
you've made. Have faith in your judgment.
wow gold farmen
Catch the star that
maple story money
twinkles in your heart and it will lead you to your destiny's path. Follow that pathway and uncover the sweet sunrises that await you. Take pride in your accomplishments, as they are stepping stones to your dreams. Understand that you may make mistakes,
powerlevel
but don't let them discourage you.
ms mesos
Value your capabilities and talents for they are what make you truly unique. The greatest gifts in life are not purchased, but acquired through hard work and determination.
maplestory mesos
Find the star that twinkles in your heart?for you alone
maplestory powerleveling
are capable of making your brightest dreams come true. Give your hopes everything you've got and you will catch the star that holds your destiny.
Post a Comment
<< Home
ARCHIVES
© Copyright 2003-2005 by Marshall Brain
RSS