Monday, February 07, 2005
Parsing a photo
Does anyone know why this happens? Look at this photo, which was on the
front page of the local paper
recently: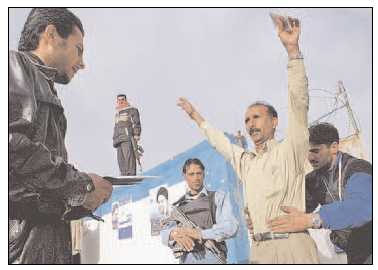 What do you see? Here is what my brain saw:
There is the guy on the left in the black coat

He is holding a doll, which is mounted on a base.

The man in the tan shirt on the right is worshipping the doll
Only after about 5 seconds did my brain get its act together and figure out that the guy with the machine gun is not a doll, but instead a person standing on the roof of the building in the background. Yikes!
ARCHIVES
© Copyright 2003-2005 by Marshall Brain
RSS