Thursday, March 10, 2005
Today's news
I happened to go to
CNN
today, and here is what was on the home page: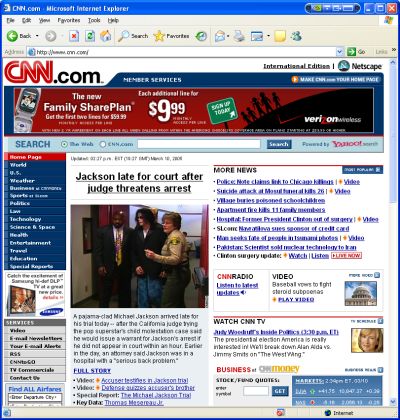 As you can see, Michael Jackson is the lead story.
Why is Michael Jackson is the #1 News story on CNN?
On the planet today there are 6 billion people. Millions of scientists are doing beneficial research. Millions of inventors are working on their inventions. Millions of businesses are coming up with new products, new services, new medicines and so on. Millions of charities are helping people less fortunate. Millions of individuals are doing good, kind things for others. In addition, there are all of the huge geopolitical things going on in our world that affect all of us in some way...
And yet, CNN's #1 lead story is Michael Jackson showing up late for trial. How can it be that, in CNN's opinion, this is the #1 most important thing happening on the planet right now?
Comments:
Well, you have it right on.
Out of sight, out of mind.
I guess some "White" guy is more important than anybody in the US.. I say US because we in the US as a majority dont care about others.
Post a Comment
<< Home
ARCHIVES
© Copyright 2003-2005 by Marshall Brain
RSS