Monday, June 20, 2005
Settings for your body
If you have ever used a large program like Microsoft Word, you are familiar with the dozens of settings available in the Options dialog. They let you customize and tune the program to your specific needs: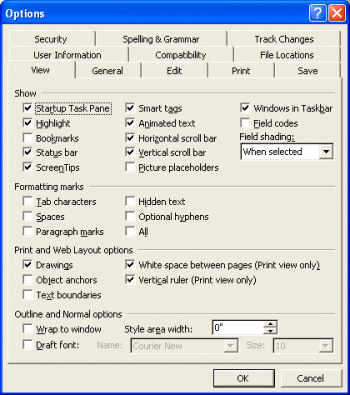 One pane of Word's Options dialog

I was walking with a couple of friends recently, and we were talking about how nice it would be if our bodies came with options screens. Some of the options we discussed included:
Ears on/off - lets you cut off all input through your ears so you get a good night's sleep no matter how loud the neighbors are.


Do not let muscles atrophy - The default setting for the human body allows muscles to atrophy if you do not use them every day. This is why you have to constantly lift weights to keep your muscles toned. By changing the default setting, your body would not allow atrophy to take place.


Raise/lower metabolism - when set to its maximum setting, this option would cause your body to burn as many calories as possible throughout the day.


Pain on/off - Would let you selectively turn off pain in certain parts of your body (e.g. a headache), or turn off all pain.


Hunger on/off - Would let you cancel hunger signals from the stomach, so you would never feel hungry and would therefore eat less.


Warm hands/feet - would cause your body to burn extra calories to keep hands and feet toasty warm in winter.
Do you have other settings you would like to be able to manipulate? Put them in the comments....
Comments:
Reading these comments only reinforced the sad, sad truth that a vast majority of the medical market today is geared towards helping people experience better sex.
How sad is that? We could be mass-providing Lasik eye surgery so that nobody has to have bad eyes ever again, or we could develop a shot or a pill that increases anybody's metabolism by 50% because 40% of America is overweight, or we could wipe out HIV/AIDS (just like we did to Polio and Smallpox) in 2 or 3 years instead of 5 or 10... (yes, researchers are that close), yet all we're thinking about is sex because that's what people will pay for.
Not that "better sex" is a bad thing, mind you, but proper diet and exercise fix most sexual problems and dysfunctions no matter how old you are (I know 70+ year olds in great physical and mental health and they still have sexual relationships), but the market just wants a "quick fix" so they can continue to sit on their fat behinds and chow down on fast food.
The market is very, very sad.
Post a Comment
<< Home
ARCHIVES
© Copyright 2003-2005 by Marshall Brain
RSS